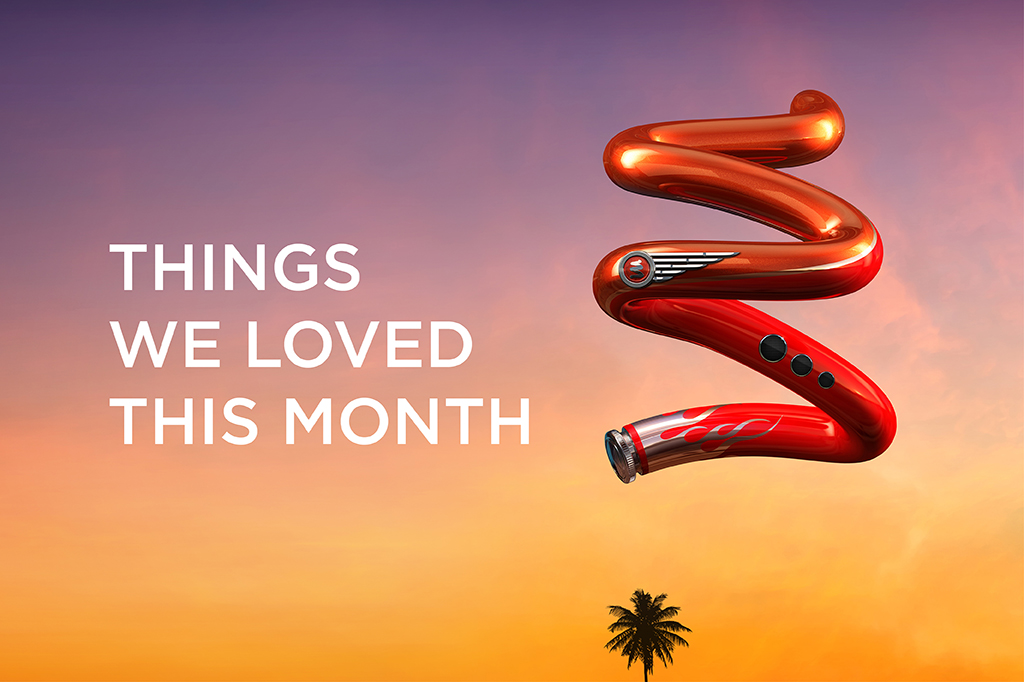 Things We Loved This Month - November
Anna Paulins - SEO Executive
30th November 2020
Read time 7 minutes
From a nail-bitingly close Presidential Election to another nationwide lockdown, November has been a month for the history books. It has been well and truly bizarre and, as usual, the world of marketing has not been immune to the craziness. November saw a 100-year-old on the front of GQ, Burger King endorsing McDonalds and Oxford Circus getting a gamer's makeover. Read through our November round-up to find the very best of marketing and advertising this month.
Captain Tom on GQ
When looking back on the pandemic in years to come, few will forget Captain Sir Tom Moore and his incredible fundraising efforts for the NHS. It was in April 2020 that Sir Tom began his 100-lap walk around his garden to raise money. He completed the challenge before he turned 100 and raised a whopping £32 million! Tom quickly became the nation's COVID-19 hero, going on to release a charity single and hold a world record – while also having his knighthood announced as part of the 2020 Special Honours.
In November, GQ Magazine announced that Captain Sir Tom Moore would become their oldest cover star. The pictures, taken by Gavin Bond, show the retired soldier sporting a classic black tuxedo with a Union Jack flag draped across his shoulders and his medals on display. Captain Tom has been a source of hope to so many throughout this year – the cover captures the optimism brought to the British Public through Captain Sir Tom Moore's fundraising efforts. You can buy Captain Tom's GQ Magazine in January/February 2021.
1. Sony takes over the tube
From one iconic shape to four. We've given the Oxford Circus Tube signs a #PS5 upgrade. 👀 pic.twitter.com/iw9qlEXR7B

— PlayStation UK (@PlayStationUK) November 18, 2020
During November, both Xbox and PlayStation released their newest consoles and what followed was a nationwide sell out. One particular marketing campaign that might have had something to do with that was PlayStation's take-over of the London Underground. The unmistakeable PlayStation button icons were incorporated into Oxford Circus tube signs, and Sony promoted the campaign with the slogan "From one iconic shape to four." Although it certainly isn't the first time that the tube has been used for marketing purposes, it's most definitely one of our favourites!
2. Twitter Fleets
That thing you didn't Tweet but wanted to but didn't but got so close but then were like nah.

We have a place for that now—Fleets!

Rolling out to everyone starting today. pic.twitter.com/auQAHXZMfH

— Twitter (@Twitter) November 17, 2020
Last month, we saw LinkedIn launch LinkedIn Stories and in November it was the turn of Twitter. Twitter Fleets are similar to Instagram stories and claim to fulfil a very real need on the platform. According to Twitter, many tweets are written and left in drafts, probably due to the permanence of a tweet and the pressure to receive likes and retweets. Fleets now let you post just for 24 hours, so there is less pressure on that post. The new feature is fantastic for marketers who can now tweet more content and start building stronger customer relationships.
3. The Show Must Go On
Of course, we could not do a November marketing round-up without throwing a Christmas advert into the mix. This year, Amazon gave us a short feature length film depicting a young girl who is cast as the lead in her ballet school's Christmas show. Unfortunately, due to the pandemic, the show is cancelled - but her family make sure the show goes ahead and she eventually performs for her neighbourhood in the snowy street. The advert captures the solidarity that has been prevalent throughout this pandemic – it shows that, in times of crisis, the human spirit will not be crushed.
4. Burger King supports McDonalds
We know, we never thought we'd be saying this either. pic.twitter.com/cVRMSLSDq6

— Burger King (@BurgerKingUK) November 2, 2020
Just when you thought 2020 couldn't get crazier, Burger King tell you to order from McDonalds?! The heartfelt message, posted across Burger King's social media channels, encouraged customers to order not only from McDonalds, but a range of fast-food chains including Subway, Dominoes and KFC. The message was clear; support businesses during this time to keep many in employment. However, the usual rivalry returned at the end of the message with a cheeky "Getting a Whopper is always best".
5. 'Calm' in the Presidential Storm
CNN's key race alerts being sponsored by the Calm app still feels like an elaborate troll pic.twitter.com/Ob84rkFWYj

— Dan Diamond (@ddiamond) November 4, 2020
November saw one of the closest US Presidential Elections in years. It was also one of the most bitter, with both candidates slamming each other in the press. That's why CNN's coverage being sponsored by 'Calm', a meditation app, was so amusing. People took to Twitter to point out the irony, which resulted in Calm's mentions on the platform soaring to 12 times the company's average since September. This clever sponsorship led to such a significant increase in awareness - how could we not mention it!
6. Nobody is Normal
Mental health has become a hugely prevalent issue in 2020, especially during the pandemic. With lockdown being one of the most isolating experiences, Childline has seen an increase in calls. Their 'Nobody is Normal' advert depicts a figure who is wearing a young boy's skin. The figure is trying to break out of the young boy, and he does everything he can to hide this side of him. At the school dance, the Prom Queen's inner figure bursts out and suddenly all of the children's do - showing that no one is the same, and yet they can all get on. The advert is moving and poignant and received a great response from children and parents alike.
7. Check them!
Breast Cancer Now released a beautiful animation during November. The short film depicts the 'love/hate' relationship that women have with their bodies – images of cat calling, menopause and breast cancer flash across the screen as the light music plays. Boobs of all different shapes and sizes are shown and as the advert draws to a close, the slogan 'Love Them. Hate Them. Check Them.' appears. We love this simple, yet memorable phrase which perfectly sums up the advert and makes the message as clear as day.
Make sure you come back in December to find out our latest favourites from the world of marketing! You won't want to miss it!
Want to know more? Explore the range of services we offer here at M3.Agency now.
Get to know the people behind our talented team, and the ins and outs of their daily roles. This week, we spoke to technical SEO specialist, Liam.
17th March 2022
Read time 4 minutes
It's an exciting time in the world of marketing. In September, we saw important social issues brought to the forefront, as well as a branding transformations from ASDA.
4th October 2021
Read time 7 minutes
From Nike featuring their retail staff in their adverts to Instagram asking us not to return to "normal" – this has been a month of amusing and creative ads.
6th September 2021
Read time 7 minutes